Since 57% of American households today own either a dog or cat, most children will be around pets—in their own homes, the homes of friends and relatives, and in their communities. Teaching children how to treat animals kindly is a lesson that will have practical applications in their daily lives.
Learning to understand and respect the needs and feelings of animals promotes core character values like compassion, kindness and empathy. Humane education also teaches important life skills like responsibility to others and safety around pets.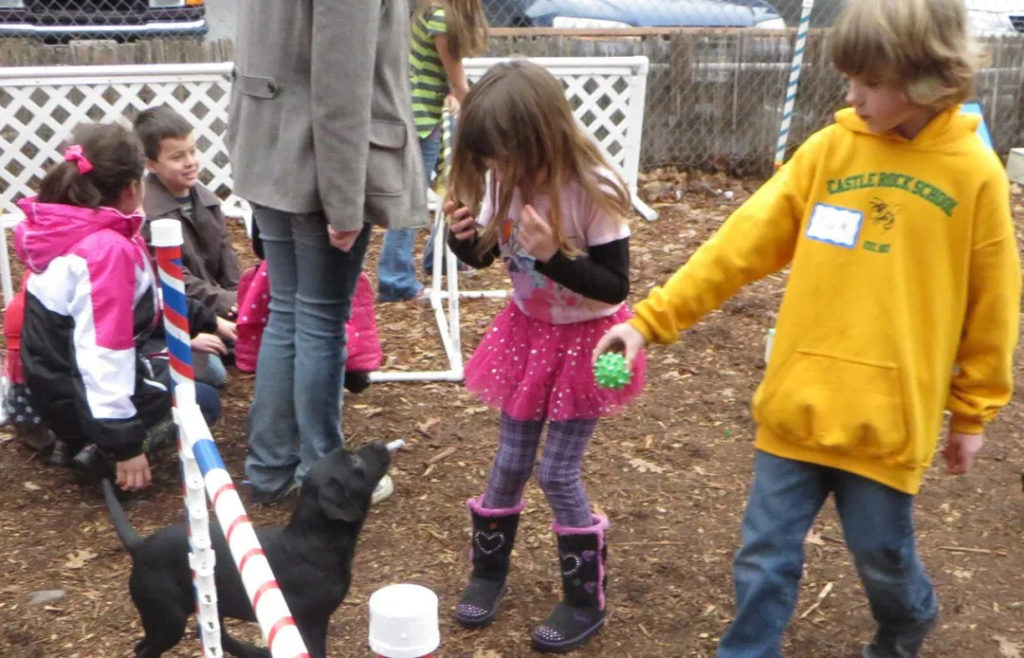 The Siskiyou Humane Society offers a variety of humane education presentations for classrooms, youth groups and community organizations.   These presentations are free of charge and made possible by the generous support of our donors and community.
Classroom Presentations
For Teachers and Educators
Our classroom presentations are designed to help you meet your teaching goals. By promoting kindness toward domestic pets and the humane treatment of living creatures, we can assist you in meeting state standards in character education.   All presentations can be customized for any size and age group, from class room to school assembly.   We can also tailor our talks to tie in with specific lesson plans.
May I Pet the Doggy?
This short presentation uses exercises and demonstrations to teach young children how to be safe meeting dogs, how to ask before they approach dogs on leash, and what to do when "the growly dog" comes.
(Preschool – 3rd Grade, approx. 30 minutes)
What Does It Mean When A Dog Wags His Tail?
According to statistics, dog bites are the #2 reason for emergency room visits by children.  In this presentation, children learn to recognize and respect dog body language signals to stay safer around dogs.
(4th Grade & up, approx. 30-45 minutes)
What Do Pets Need?
Children learn, through interactive discussion and exercises, what their pets need for happy, healthy lives.
(3rd grade & up, approx. 30 minutes, can be combined with other talks)
Education Opportunities



In addition to classroom visits, we also offer educational opportunities at our Adoption Center, including:
Shelter Tours We have education programs available by appointment for all age groups and organizations. Tours are also available. For more information please contact us at 530-926-4052, or contact sheltermanager@siskiyouhumane.org
Job Shadowing
School Project Mentoring
Service & Volunteer Projects
The Siskiyou Humane Society can provide speakers for parent, family and service groups interested in humane education and animal welfare topics.
Scheduling a Presentation
Contact us by phone or e-mail with the following information:
Contact Person Name
Phone Number & Best Time to Call
The school/class location
Age of students
Number of students
Requested Programs
Proposed Time & Dates