Sharon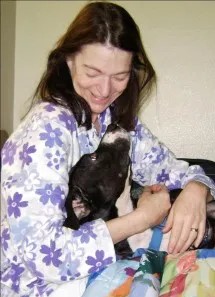 She was a perfect Lady, a gentle, affectionate dog who loved snuggling and belly rubs. She was a bright, eager-to-please dog who learned how to Sit, Down, Shake, Heel and other cool behaviors. She was shy of strangers, and frightened of rowdy dogs, but learned to cope graciously and elegantly with both in her ladylike way. She was a great favorite at the thrift store, where she loved to visit and get petted by our wonderful thrift store volunteers. Thanks to them, and to the marvelous training work done by Deb Franzini on the shelter's Behavior Team, she became an Ambassador for her breed. Sharon was a Pit bull, and a really cool dog. If she had been in the body of a Golden Retriever, she would have been out the door within days. But since she was a Pit bull, she got over-looked again and again… which turned out to be just fine! Sharon kept having odd skin rashes, until we found out that she was allergic to some of Mt. Shasta's pollen! Getting her into an urban home, away from our piney woods, was highly recommended—but there was a problem. Despite the fact that Miss Sharon was close to Pit bull perfection, other shelters simply won't accept out-of-area Pit bulls: they have too many already. So Sharon was with us for nearly a year—and kept getting better in mind and worse in body. At last, after a special plea to Oregon Humane Society in Portland and lots of behavior prep by Deb, the divine Miss S got her ticket to freedom. Deb and her sister Carol drove her up (we hear there was especially delightful cuddle time in a Motel 6 bed!), and Sharon was taken into the fold at Oregon Humane. Within days, she was placed in a new loving home, far away from our wicked pollen! Good dogs come in all packages. Sharon was a good dog. Sometimes it takes a village to rescue a life; in her case, the village was there for her. Thanks to Deb, for never giving up, to all the volunteers—some of whom were afraid of Pit bulls until they made friends with Sharon—who taught Sharon how to trust new people, and to Oregon Humane for making an exception for an exceptional dog. Way to go, Sharon!
Gracie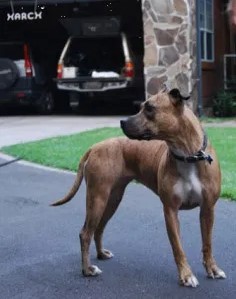 After losing our previous dog to illness, several months passed, and we realized we needed a new addition to our family. We went to the Siskiyou Humane Society website and immediately noticed Gracie, a brindled Pit Bull mix. But we weren't entirely in love, and it wasn't until two weeks later, when our eldest daughter was visiting from Portland, that we decided to go check out Gracie in person. After meeting her and taking her for a walk, we fell in love and took her home.
During Gracie's eight months at the SHS, the staff spent many hours teaching her tricks and loving her. We were impressed with how smart Gracie was. We were warned that she had some separation anxiety and that it would be best if we could be home a fair amount. Yes, we replied. But do you think she'll learn to be affectionate? The staff members smiled and assured us she would. After a few weeks, Gracie settled down nicely and is now surprisingly calm, even when left alone. She loves to go everywhere and anywhere with us (even kayaking). She runs like the wind and jumps like an antelope. Our younger daughter says she's a cross between a deer and a hyena, but we think she's part kitten, because she loves to curl up in a lap—all 46 pounds of her.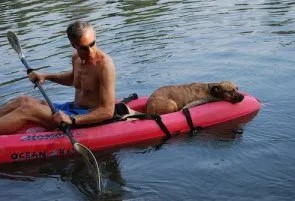 Our favorite trick that she learned from the SHS staff is "waffles." On this command, Gracie makes the quietest little breathy growl/bark that is meant to be her "inside voice." It's hilarious!
Gracie has already provided us with many hours of fun and entertainment. She is a great addition to our family. We encourage you to visit the Siskiyou Humane Society and adopt your own new friend soon.
John & Lori Harch
Roxy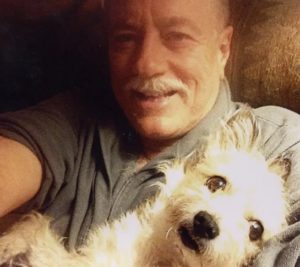 My name is Patrick Jennings and I wanted to relay a big ol' thank you to all of you working hard there at the shelter every day, month and year! My story is simple but profound.
In July 2007, recovering from a bone marrow transplant, I lost my dog Cricket due to liver failure. She was 14 years old. She was a Terrier/Chihuahua mix. I was very close to her. I did not want another dog, as I thought no other dog could compare to her. After about 5 months of pushing from my wife, I reluctantly started looking at dogs on Petfinder.com.
On December 26, 2007 (after only 5 minutes of looking), I saw a picture of Roxy, a Terrier/Chihuahua mix who looked identical to Cricket. I just knew I had to have that dog! This was a 500 mile trip each way for us. We decided it would be good for us to get out of town for a short while, so off we went. When I arrived your staff was so very helpful. They told us that Roxy and 2 other dogs were involved in a house fire and their owner lost the house (not sure what happened to them). They also told us that Roxy was very offish and seemingly not extra friendly. We went out to the meeting room and she immediately jumped into my lap and felt right at home. It was an instant special connection on both sides!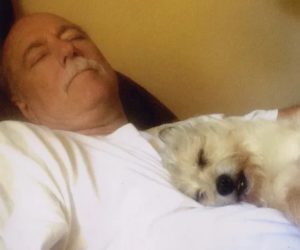 You had told us that she was approximately 2 1/2 years old, which was nearly the exact date of my transplant (June 23, 2005). So, we were both born, and me reborn, on the same day (approximately)! Long story short, is that she has been a special companion for me.. We are always together! She sleeps on the bed with us, curls up and watches movies with us, and never likes to be too far away from me. She is the most beloved animal I have ever had! My health is excellent now and life is good. Dogs can really put a lot of joy in your life! So thank you very much for your hard work and especially for saving Roxy!
Patrick Jennings
Tacoma, Washington